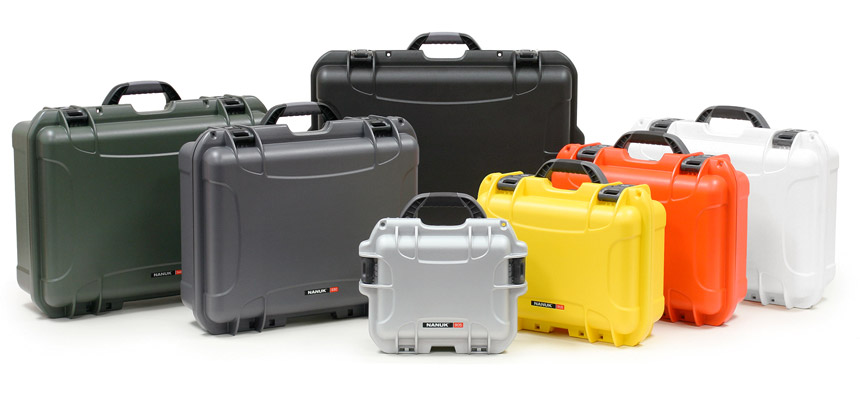 Exclusive Nanuk Cases Features
Padlockable
For those occasions when security is everything NANUK protective cases have obvious benefits. Each case includes two padlockable hasps that are moulded directly into the toughened resin case.
You can use your own padlocks or you can opt to have NANUK's TSA approved security padlocks added to give you extra peace of mind and the assurance that whatever you carry in your heavy duty NANUK case is secure as well as safe. NANUK padlocks are combination locks that won't be broken off by customs making them secure and convenient.
Watertight
NANUK waterproof cases are made in Canada from durable and extra strong material to ensure that your belongings or any other contents of the case is kept safe and secure. The resin and mould are splash resistant while the waterproof seal is designed specifically for use on NANUK waterproof cases.
While some seals can become damaged or fatigued and eventually let water through anyway, NANUK uses a hollow core design that prevents this from happening and removes the need to worry about the contents. You can even take the case diving without having to worry needlessly that your gear might get wet.
Impact Resistant Resin
Every aspect of a NANUK durable case has been designed with strength and durability in mind. The material that is used to construct the case is NK-7 resin which is durable to the extreme. It can withstand atmospheric and climatic conditions and if the case is dropped or bumped, not only will the case survive in tact but so too will the contents.
It isn't just the frame of the case that's built in this way either. The hard sided case offers complete protection all around the objects inside so that you can transport anything safely and securely to your chosen destination. What's more, NANUK cases include a lifetime warranty on parts and labour.
Soft Grip Handle
It's all very well providing one of the toughest and most resilient military grade durable cases but in most instances, somebody will need to carry the case. In order to make this experience more comfortable, a soft grip handle has been added to every NANUK case regardless of the size or dimensions that you choose.
The frame of the handle is created using the same NK-7 resin as the rest of the durable case but it is coated in a shock resistant soft grip making it more comfortable and easier to carry and also helping to protect the case. When not in use, the handle is held down using integrated stays.
Powerclaw Latching System
The patent pending Powerclaw Latching System is another durable component of a world leading ultra durable case. No matter how difficult the assignment your NANUK case will be up to the job because the latching system helps ensure that the case remains shut even if dropped or compressed.
The case is clamped tightly shut while the slide lock is moved into position, retaining the pressure of the latch. The case won't open during transport, even if it's a bumpy ride, and you can be sure that its cargo will arrive at its destination perfectly in tact.
Integrated Lid Stay
There's nothing worse than having the lid of a case slam shut on your fingers while you try to juggle and wrestle the contents out. Fortunately, the NANUK waterproof case has a lid stay that is built into the design of the case so it will stay open without you needing an extra pair of hands. This can help to further protect the contents as the lid won't snap shut when you least expect it.
NANUK cases are packed with bright and innovative features that are designed to offer convenience as well as security and safety for your items.
100% Stainless Steel Hardware
The attention really is in the detail. A case made from durable and secure materials but uses low quality fittings and hardware is far from being a secure option. The hardware can rust or become damaged and eventually this may lead to the case bursting or breaking providing very little or no real protection to whatever is inside.
NANUK cases use 100% stainless steel hardware. Marine grade materials mean that your new NANUK case will continue to operate as well and efficiently in 10 years as it does the day you buy it. It also further prevents damage or breakage.
Integrated Bezel System
NANUK cases are incredibly simple to operate and very beneficial to the user, thanks partially to their flexibility. This flexibility is further expanded by the addition of extra layers and compartments inside the case. The integrated bezel design means that there's no need to drill holes or glue pieces in and adding extra features is simple and non-harmful.
Drilling holes in a protective case can ruin its durability but if you want compartments or a layer of waterproofing added then NANUK cases are ideal. Simply slot in the padded dividers, the extra foam layers, or the waterproof layer to enjoy greater protection. No need to drill, glue, or compromise.
Stackable
A collection of NANUK cases can prove especially useful for some projects. Whether you need to move a large amount of photographic equipment or even scientific equipment using the right protective cases can help ensure that you don't damage anything inside. That's why NANUK cases have been designed to be stackable.
Multiple cases of the same size can be stacked because the feet of the case will slot into the mould of the lid of another case. Got a lot of equipment that you need moving without risking damage to any of it? Then NANUK cases are the perfect storage and transport solution.
Warranty
NANUK cases are manufactured in Canada and are tested in some of the most extreme circumstances. They use high grade materials in order to provide military standard protection for anything that you need to transport inside. They also have various certificates and accreditation to back up claims of being resistant to cold, wet, shock, and vibration as well as other forms of possible damage.
However, you don't need to take our word for it because every NANUK case, regardless of its size or design, comes with a lifetime warranty so that if there is a problem with your case then it will either be repaired and returned, or a new one shipped out to you at no extra cost.